Artelys Knitro 13 solves your MINLP problems 5 times faster!
— We are pleased to announce that Artelys Knitro 13 is now available! This new version focuses on performance improvements for both continuous and mixed-integer general nonlinear problems.
Artelys Knitro is the leading optimization solver for difficult large-scale nonlinear problems. Hundreds of customers worldwide rely on Artelys Knitro's efficiency and robustness in numerous business and industry applications to solve their nonlinear optimization problems.
Mixed Integer Nonlinear Problems (MINLP) arise in applications in a wide range of fields including chemical engineering, finance, power networks, and manufacturing. Artelys Knitro 13 introduces a brand-new parallel branch-and-bound algorithm to solve the most complex MINLP problems taking advantage of our customers' increasingly important computing capabilities. Artelys Knitro 13 using 4 threads on hard MINLP instances (requiring more than 100 seconds to solve) is 5 times faster than Artelys Knitro 12.4.
Simultaneously, Artelys Knitro 13 delivers an 18% performance improvement on average for hard continuous nonlinear problems.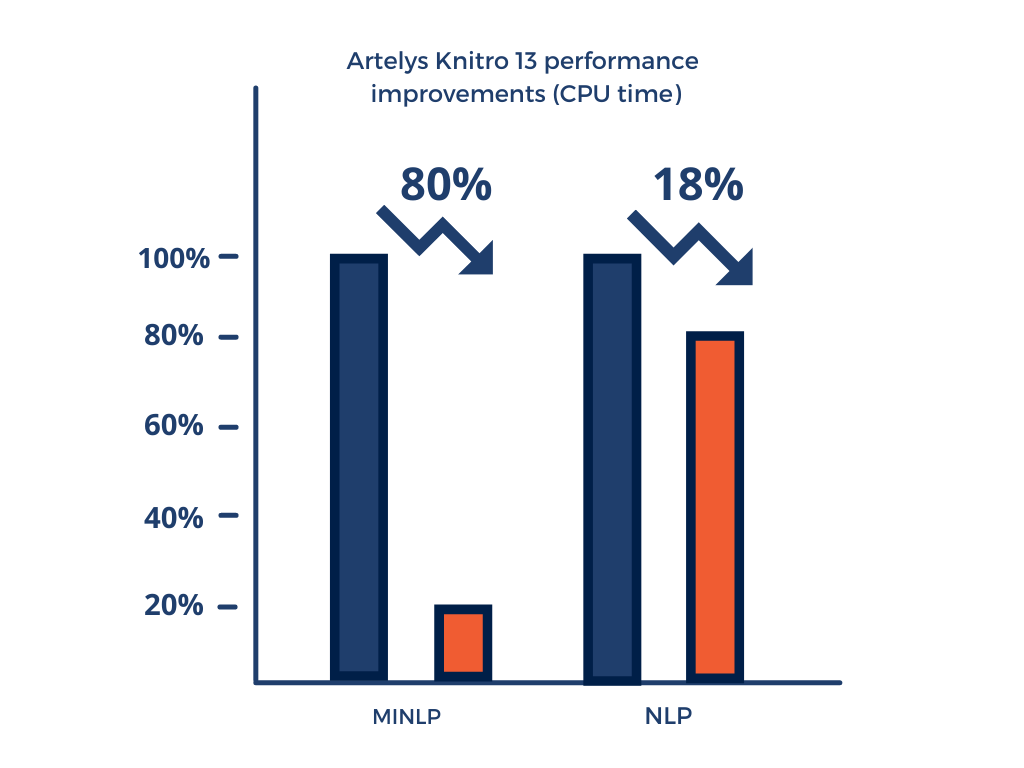 In addition, Artelys Knitro 13 brings:
A 25% performance improvement on ARM architectures, which are widely used for embedded optimization applications.
A higher probability to reach a global solution for non-convex quadratic programs (QPs) and quadratically constrained quadratic programs (QCQPs) by offering new initial point strategies. This feature proves particularly useful when used in conjunction with the Artelys Knitro multi-start procedure.
If you want to know more about Artelys Knitro, you can contact us or visit the dedicated web page.
subscribe to our newsletters