Nice Airport optimizes the management of its resources with Artelys Crystal
Artelys Crystal Resource Optimizer has been successfully deployed at Nice Airport. This innovative and ambitious software solution offers the opportunity to optimize the use of airport resources and to anticipate the strong growth expected in the years to come.
The proposed challenge
Nice-Côte d'Azur Airport 3rd largest airport in France. In 2018, they welcomed more than 13.8 million passengers, a number that has grown by 45% since 2000, and which is expected to continue growing.
In this context, anticipating the saturation of infrastructures, keeping investment costs under control and maintaining a high quality of service at all times require an excellent control of its future needs. This is the daily challenge airport resource planners face, a complex task for which, until now, they were too poorly equipped.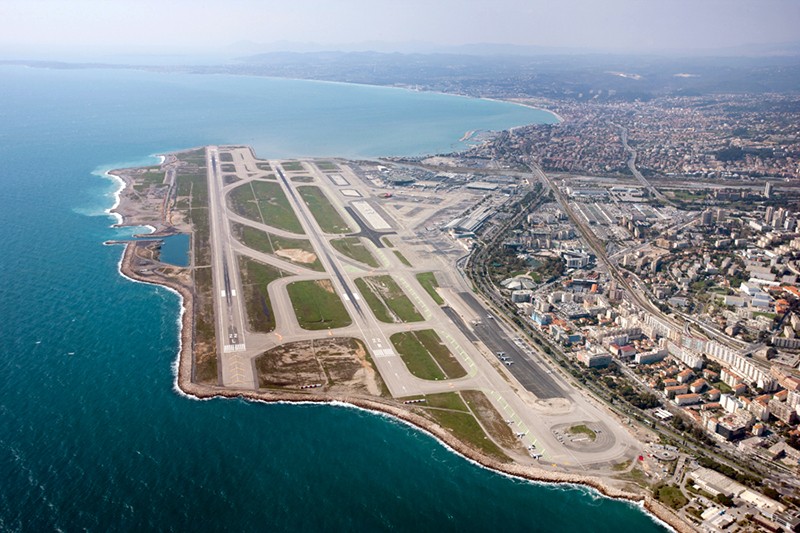 A complex problem
Airport planning relies on a great diversity of resources: check-in counters, baggage sorting machines, customs posts, boarding gates, aircraft parking, etc. These resources must be able to support the flow of passengers, baggage and aircraft and may be the source of various difficulties: waiting times, delays or discomfort. Finely quantifying airport resource requirements, requires detailed simulations of these flows enabling the testing of investment options. For this purpose, fictitious, detailed, statistically realistic flight programs that are consistent with medium or long-term traffic forecasts must be generated. To arrive at this result, many factors must be taken into account: on the one hand, the future flight contracts of the airport (Which companies will operate, at what frequency and over which periods?, What aircraft configuration will be used and how many passengers are extended of each fligh?…); and on the other, the behavior of passengers (When will they show up at the airport? How many will require airport check-in, have luggage, use the automated baggage drop-off?).
The solution implemented
In collaboration with the resource management experts at Nice Airport, Artelys designed an innovative software solution, specifically addressing this tactical and strategic issue of analysis and sizing of airport resources, using a bottom-up approach implementing the following features:
• Building forecast flight programs respecting the macro-forecasts of traffic, learning from history the main criteria that impact realism such as calendar effects or the behavior of the airlines, taking into account the political and strategic changes known or anticipated by the planners and respecting a set of consistency constraints. A hybrid approach, combining advanced models of statistics and optimization, allows the software to produce this forecast under discrete event constraints.

 

• Building passenger and baggage flows through the implementation of user behavior learning methods;

 

• Identification of resource requirements by simulation and flow optimization through the resource graph; the algorithm allows the consideration of constraints and preferences of use.

 

• Resource sizing and 'What if?' scenarios based on a Artelys' scenario module which provide many comparison tools such as KPI's. The results quantify the interest of each investment and strategic choice. Detailed quantitative elements as well as synthetic representations justify each recommendation of the tool.
The implementation of a tailored, efficient and robust software solution relies on the use of Artelys Crystal Resource Optimizer software, an optimized planning solution, generic, multi-user and multi-horizons, offering great facilities to address the most original scheduling and sequencing issues. Statistical models are implemented on the basis of R libraries, while the modeling of optimization issues implements linear programming in whole number, solved by the FICO Xpress solver.
subscribe to our newsletters