Artelys Knitro License program
— We offer different licensing options to accommodate a variety of deployment architectures.
Get a free trial license of Artelys Knitro to experience the performance, functions, support and services we provide as part of our product offering.
Discover Artelys Knitro licenses and support service that will help you solve problem and receiving Solvers updates to quickly and easily a model optimization problems.
Artelys strongly supports the use of mathematical optimization within academic institutions. We offer free, full-featured copies of Artelys Knitro for teaching purpose.
download Knitro trial license
— Discover Artelys Knitro functionalities
Download a trial license

Create an account to gain access to trial licenses
Then choose either a one-month full trial or a six-month trial with limited problem size (300 constraints and 300 constraints)
You will usually receive your license within one business day
You can get support for the installation by checking our online documentation or contacting us
If you are in the academic field (student or professor), you may also consider an Academic License or a Teaching License Program instead.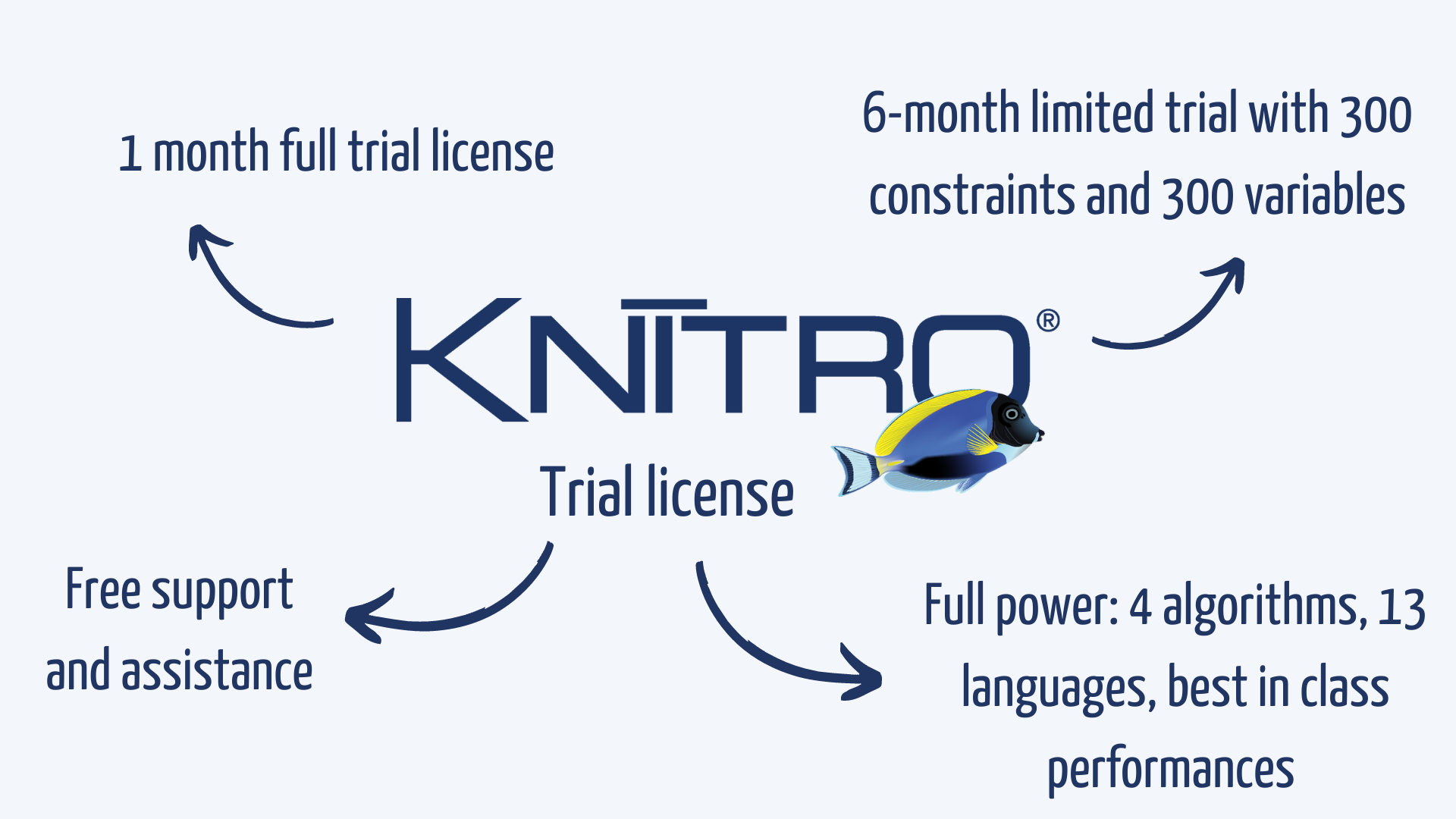 — Get unlimited access to Artelys Knitro
How to purchase Artelys Knitro

Check out our licensing information below
Contact us for a quote tailored to you needs (types of licence, number of users or computers)
If you're not familiar with the different licenses, please contact us, we would be happy to suggest you the best option regarding your needs.
Different licenses that meet your needs
Note that this is a non-exhaustive list, introducing the most popular license and their key information. We also provide a License Agreement for academic or commercial use. Contact us to know more about Artelys Knitro agreements.
Single-User Single Computer
Allows one designated user to run any number of processes on one designated computer.
Allows the product to be run by any number of users in any number of simultaneous processes, on one designated computer with a pre-determined number of processors.
Each floating license allows one process at a time to be activated on any computer in a designated local network.
Project License Agreement
The PLA is a broad license agreement for internal use of Artelys Knitro within a given project
or application.
Deployment License Agreement
The DLA is a broad license agreement for embedding Artelys Knitro within a large
product and reselling it as part of this product.
Organization-wide license
Allows the product to be used by any number of users on any number of servers within an organization.
Artelys Knitro teaching program
— Teaching program requirements
Free academic licenses for the professor and the students during the time of the course

Can only be used by teachers of a recognized degree-granting academic institution (t

he registration email must be from a recognized academic domain)
Contact us with

a short description of your course

objectives and content

Expires 12 months after the creation date, and can be renewed annually. There is no limit on the number of free licenses you can obtain, although each license must be generated individually by the professor (immediate delivery)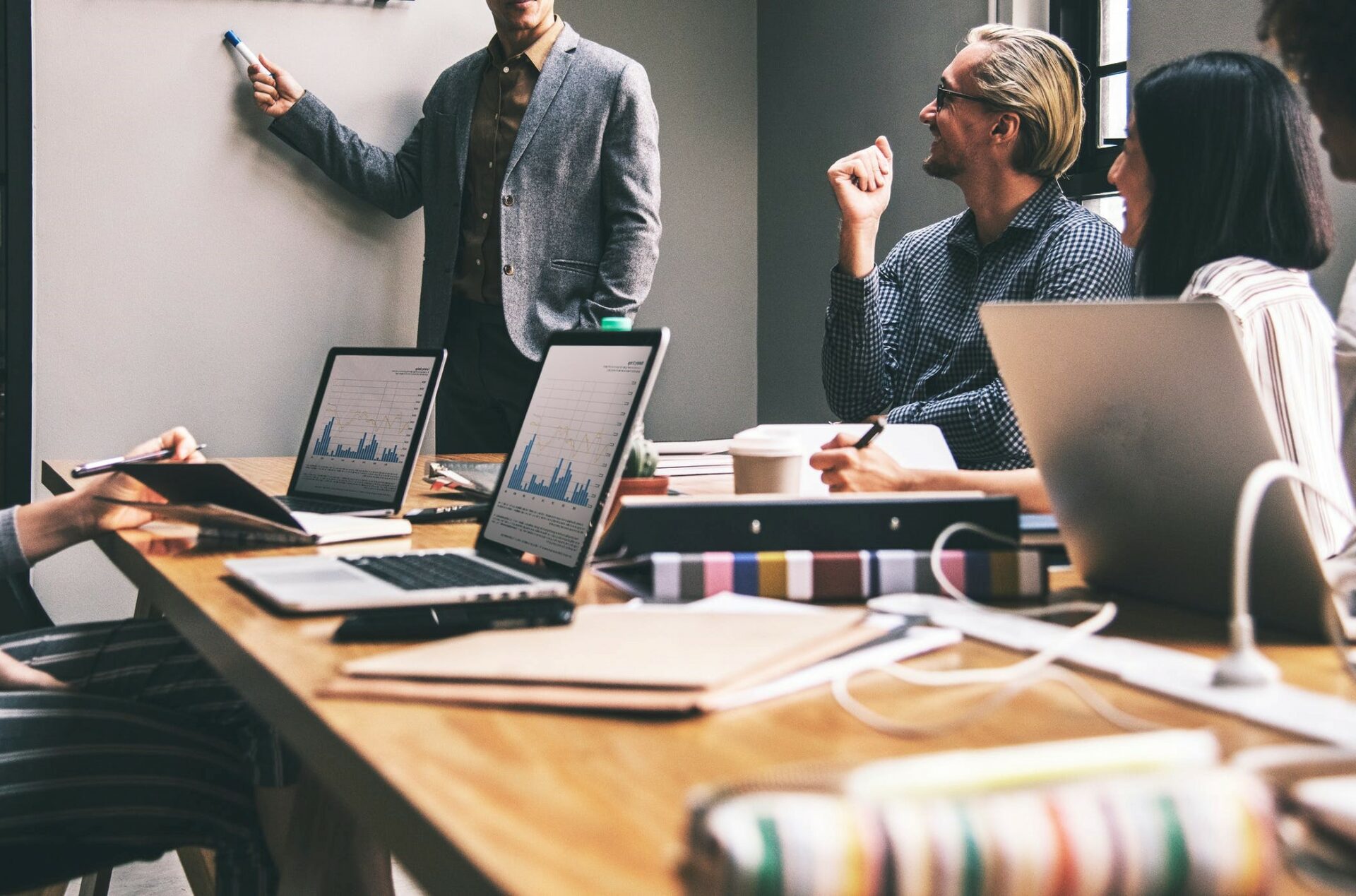 This section contains frequently asked questions by users of Artelys Knitro when purchasing, installing or using the software and our answers to these questions. For an answer to a specific question, please contact us.
Can I use all interfaces if I purchase the Artelys Knitro solver through a modeling language's website?
No. When Artelys Knitro is purchased through a modeling language vendor, Artelys Knitro can only be used through that particular modeling language or interface. To embed Artelys Knitro in a C/C++ or FORTRAN program, you must purchase the full Artelys Knitro libraries through Artelys.
Why does get_machine_ID.exe say the machine ID could not be determined?
On Windows this may happen if your machine is not connected to a network. The machine ID includes an Ethernet address, but Windows does not make the address available unless the network connection is enabled. See the Artelys License Manager User's Manual for details.
What should I do when I have difficulties installing Artelys Knitro?
Where can I discuss with the Artelys Knitro community?
The Artelys Knitro forum is hosted by a Google group. You can refer to the Artelys Knitro community to discuss about Artelys Knitro, provide feedbacks, ask technical questions, etc. Anyone can view the discussions. To post a message you need to sign into Google.
Which article should I mention if I want to add a reference to Artelys Knitro in my paper?
If you need to mention Artelys Knitro in a publication, please insert the following reference:
R. H. Byrd, J. Nocedal, and R. A. Waltz, "KNITRO: An Integrated Package for Nonlinear Optimization" in Large-Scale Nonlinear Optimization, G. di Pillo and M. Roma, eds, pp. 35-59 (2006), Springer-Verlag.
Where can I read more information about the algorithms implemented inside Artelys Knitro?