Artelys and Brookfield: innovation partners in hydropower modeling
— Artelys will present the solution Artelys Crystal Energy Planner adopted by Brookfield Renewable during the 11th Hydropower Conference of the Centre for Energy Advancement through Technological Innovation (CEATI) on March 3-4 2020, in Palm Springs, California.
Artelys and Brookfield Renewable will present their partnership, consisting of the integration and use of the Artelys Crystal Energy Planner solution, devoted to the modeling and optimization of energy systems. This customized solution uses a powerful optimization engine to assist hydropower producers to maximize their generation benefit while taking into account all specific operational, environmental and market-related constraints.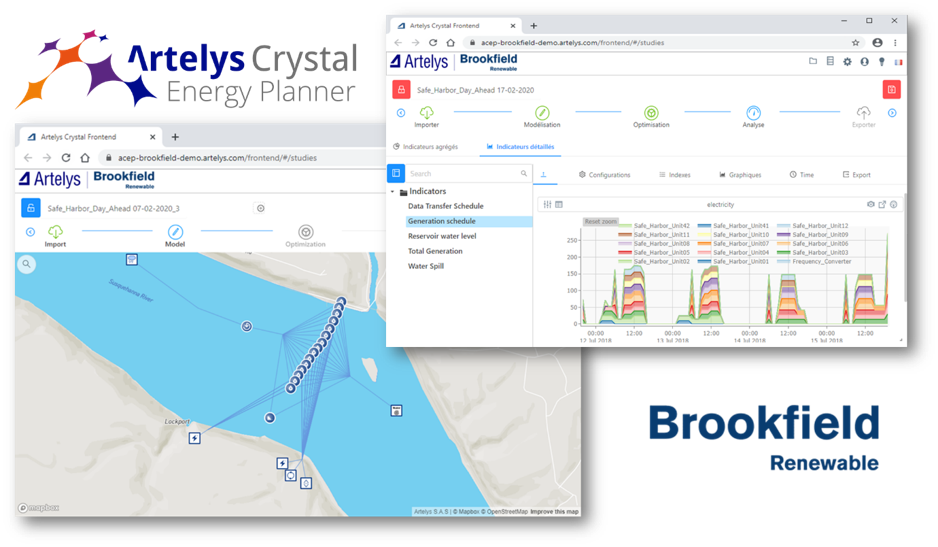 Brookfield Renewable's hydropower plant model (Safe Harbor, 417 MW, Pennsylvania) 
The objective of our presentation is to present the solution, with a focus on the steps taken to integrate these powerful algorithms into an operational scheduling process.
Details
8:15-9:00, March 4, 2020: session talk by Violette Berge, Artelys Canada Inc. & Michael Mosco, Evolugen (Brookfield Renewable) on "Hydro Reservoir Management Through Modeling and Optimization" in Session 3C: Operations and Planning. Session chair: Rancho Mirage. Click here for more information.
Venue
Ambassador Ballroom 5-6, The Westin Mission Hills, Palm Springs, California, USA
subscribe to our newsletters