Marvin, Optimization Engineer
Curious and open-minded, Marvin likes the work environment that fosters exploring and learning.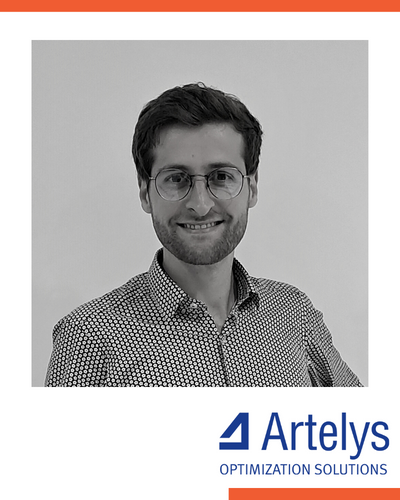 What are your previous experiences of work/studying and your position within Artelys?
I graduated from an engineering school in Toulouse, specializing in data science and operations research. I worked 5 years before joining Artelys. I began my career at Airbus, in optimization and operations research, followed by a new opportunity at Thalès Air Systems in software development for air traffic management. I went back to work at Airbus to complete an industrial thesis.
I joined Artelys almost 1 year ago as an optimization engineer. I am involved in software and optimization engine development projects.
In this work, my role depends on the maturity level of the projects. I can take part in the development of a calculation engine, and improve it according to clients' needs. I can also work upstream on data models, data processing, etc.
Can you introduce a project you worked on recently?
On a project for the Compagnie Ivoirienne d'électricité (CIE), we are developing an operational planning tool that models the Ivory Coast's electrical system in the form of production assets. I am involved in the Python configuration part.
The tool allows planning to predict how to generate electricity to meet the demand at different time steps, as demand rises and falls throughout the day. A short-term time horizon integrates more operational and technical constraints on different assets.
What do you like the most about your work environment?
First of all, I think about being surrounded by optimization experts. It pushes me to go further in my thinking and my business skills. Beyond that, I am also learning to step outside of my comfort zone through customer training, which pushes me to explain from a different perspective our subjects in operations research, and especially through commercial activities that I discovered when I arrived at Artelys.
Finally, I was able to quickly find my place within this human-sized company (editor's note: Artelys has about a hundred employees worldwide).
How would you sum up Artelys in three words?
EXPERTISE
I am surrounded by optimization experts.
DIVERSITy
There are thousands of potential applications related to operations research: I was able to work in energy and transportation!
Engaging
Our work concerns major and burning issues.
subscribe to our newsletters