Claire, Energy Project Manager
Over time, Claire has become a reference within our energy planning projects for French local authorities. You can spot her riding her bicycle around the streets of Paris to get to the office no matter the weather.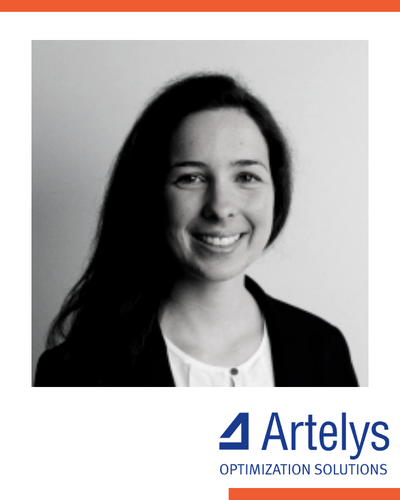 What are your previous experiences of work/studying and your position within Artelys?
I began my higher education with a preparatory class in Poitiers. I then entered ENSTA to specialize in applied mathematics and later on in energy. After an end-of-study internship at the leading French electricity distributor, I joined Artelys in 2018 as an energy consultant.
At first, I worked for local authorities and in particular around the Energy Master Plan of the Metropolis of Tours, which allowed me to evolve quickly in project management, customer management, and commercial development.
On another side, I was gradually entrusted with managing the energy division, ensuring team coordination within energy-related projects
What is an Energy Master Plan and how does Artelys contribute to these projects?
The objective of the Energy Master Plan for a local authority is to position itself upon an energy strategy: reduction of energy consumption and emissions, improvement of energy independence, choice of implementation of renewable production channels, etc.
The first step is to realize an energy diagnosis by asking questions such as: what are the current levels of consumption and production, what are the infrastructures available to transport and distribute energy, what is the renewable potential, etc. It gives us a clearer picture to make recommendations and to identify leverage actions.
In a second phase, Artelys submits different scenarios to the local authority and analyzes their technical and economic impacts. At the end of the mission, the local authority selects the most suitable energy scenario and the set of operational solutions to achieve its objectives.
What do you like the most about your work environment?
What I like is that we deal with topical issues related to the energy transition. I feel that the company has placed its trust in me and I have a sense of belonging. The environment is very dynamic, both professionally and extra-professionally. For example, you can join groups to go hiking, climbing, etc.
How would you sum up Artelys in three words?
ENERGY
It defines the projects related to energy that we are working on, but also for the energy that we find within people at Artelys.
Talent
My colleagues impress me with their technical know-how.
Trust
Being at ease with your colleagues, in your work environment, the autonomy you are given to carry out your missions.
subscribe to our newsletters